Latest News
TISEC delivers Practical Pattern Recognition Workshop for NDT in Montreal, Canada, June 28-30, 2010
New look of TISEC's Super ICEPak® web site, November 2009.
Download and try out Super ICEPak® today, contact us for a trial key, November 2009.
Quick Look at Super ICEPak®
The Super ICEPak® software consists of the Design Console and a number of tools for data analysis. The abstract nature of the software gives the user the flexibility to manipulate the data and retrieve accurate results. Here a preview of the software's simple and powerful interface:
The Design Console
All the tools you need for classifier design and evaluation are conveniently available on the design console - the data and feature management tree, the classifier options, the features, ranked according to their performance, and the results of training and testing the classifiers.
This visual design console has been developed for rapid application setup and prototyping. It is complemented by a number of tools in a multi-pane layout, and an extensive on-line HTML reference guide and tutorial. This combination of tools and environment reduces the design and implementation of neural networks and statistical pattern classifiers to minutes, not weeks or months.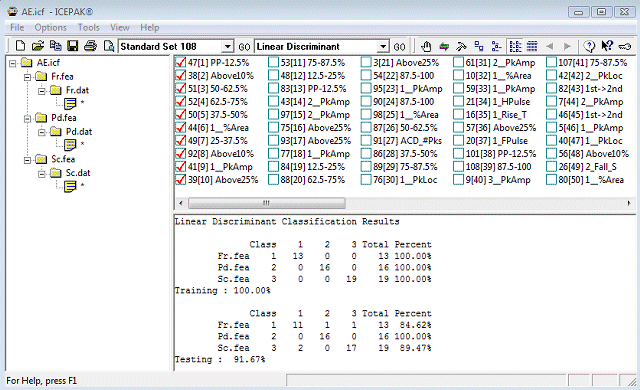 Design Tools
Super ICEPak® brings you all the tools of statistical pattern recognition, neural networks and fuzzy logic in one package. These methods use a common approach of extracting features from the source image or signal and using them to classify different signals, images or segments of an image into different classes. Feature manipulation, classifier design and testing are all conveniently available under Tools. You don't have to build your own neural nets anymore or work with several packages to manipulate features or put together bits and pieces of the statistical or neural classifiers. You can also evaluate the performance of the classifiers available in your application. Why use a neural network if a simple statistical classifier will do the job better?