Latest News
TISEC delivers Practical Pattern Recognition Workshop for NDT in Montreal, Canada, June 28-30, 2010
New look of TISEC's Super ICEPak® web site, November 2009.
Download and try out Super ICEPak® today, contact us for a trial key, November 2009.
Capabilities
Where does Super ICEPak® Fit into your Application?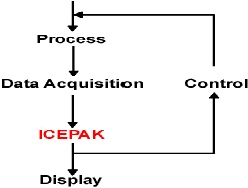 From feasibility evaluation, through design and development, to integration and deployment, Super ICEPak® provides powerful and cost-effective tools for the complete design life cycle. Super ICEPak® fits into a data acquisition and display system or a data acquisition and control system to extract information from signals and images when interpretation involves more than a simple measurement. In addition to automating the interpretation, Super ICEPak® uses the full information content of the signal or image data to increase the reliability of decision making and to provide increased control over the decision making process.
You can apply Super ICEPak®'s pattern recognition capabilities to data sources ranging from waveforms to images and tabular lists of discrete data. Super ICEPak® can help when faced with:
High data rates
High data volumes
Complex data
Rapid decision-making
Applications that resist other forms of automation and require human analysis or interpretation.
Unique functions performed by an individual or small group and a lack of skilled people.
A need to capture the expertise or expert knowledge and store it in the computer.
Super ICEPak® has been used in a wide variety of applications ranging from engineering to medical systems.
Engineering Nondestructive testing

Quality control
Process control

Geophysics

Microseismic mine monitoring
Seismic exploration

Image interpretation

Coin and bill recognition
Filter Debris Analysis

Medical Diagnostic Systems Electroencephalogram interpretation

Electrocardiogram interpretation
Electromyogram interpretation

Defense Communications monitoring

Radar and sonar interpretation
Intrusion monitoring
Super ICEPak® as an R&D tool helps researchers, through feature definition and classifier design, to further understand relationships among the phenomena underlying their data.
Super ICEPak® has been used in research programs in areas ranging from machinery health monitoring to biological studies. Super ICEPak® helps in determining key relationships among project variables and in examining the statistical nature of experimental data.
You can increase the effectiveness and reliability of your interpretation in existing applications and apply it to new areas previously inaccessible due to technology limitations.